Mandalay Bay Casino
Born during Vegas' last big casino-building boom of the Nineties, the Mandalay Bay epitomizes everything that generation of casino stands for, where both size and quality were paramount to the whole experience.
It may not have the same high profile as some of MGM's other famous casinos on the strip, such as the Venetian or the MGM Grand. But with a huge casino, a fantastic entertainment line-up and over 3,000 rooms, it has managed to establish a rock-solid reputation for itself.
A difficult birth, an amazing launch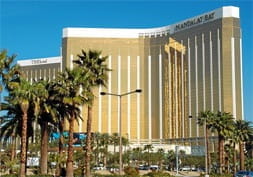 The Mandalay Bay stands on the site of another one of
Las Vegas' famous casinos
, the Hacienda. Unable to keep pace with the new generation of casinos that were emerging at the time, this was imploded in 1996 to make way for the Mandalay Bay.
Built with a reputed budget of $950 million, the Mandalay Bay started out life under the working name of 'Project Paradise' before adopting it current moniker in 1998. However, it was not plain sailing.
Notably, during the construction phase, it was found that the casino's main tower was sinking at a faster rate than its two towers, which if left unchecked would eventually result in structural damage. Construction was halted, and eventually a solution found using hydraulic jacks to keep the height stable.
The casino/hotel finally opened on March 2, 1999 to the unusual spectacle of Hollywood 'A-listers' Dan Aykroyd, James Belushi and John Goodman heading a parade of bikers through its front doors. Since then, it has undergone the usual expansion work, including the launch of a 100,000 square foot convention center and a new hotel tower in 2003.
A gambler's paradise
Step onto the Mandalay's 135,000 square foot casino floor, and you'll find its exotic styling and wide array of games a sophisticated, pleasant place to gamble in.
Its various tables offer all the usual games, including roulette, blackjack, craps and baccarat. It also offers more than 2,000 slots, ranging from old mechanical favorites to the latest video slots and video poker machines.
Poker is also available, including Texas hold'em, and the casino is famous for its frequent poker tournaments, of which several are held a day. Slots tournaments are also available.
For the high roller, the Mandalay offers a dedicated high-limit areas for table games and slots, with the latter offering personalized service from its dedicated VIP attendants.
And naturally, there's a fully equipped sports and race book for those who enjoy a flutter on the horses or another sport of their choosing.
Nor are you restricted to the main casino. For those who like to chill out a by the pool, there's the Mandalay's Beachside Casino, where you can enjoy a quick a swim, grab a drink from the bar and wander straight over to a table to place a bet. Even the dealers wear swimwear.
Scintillating entertainment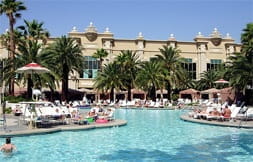 As with all casinos of its generation, the Mandalay Bay offers far more than fantastic gambling. These non-gambling attractions include a wide array of live shows, concerts and events, ranging from blues and pop concerts, all the way through to live UFC, wrestling and boxing matches.
The hotel and its performance facilities have also played host to a number of notable productions, too. Up until 2009, it hosted Abba-themed musical Mamma Mia!, which was subsequently replaced by Disney's the Lion King. This closed in 2011, but as of 2013, the Mandalay will be the host of Cirque du Soleil's Michae Jackson: The Immortal World Tour.
The Shark Reef is also worth a visit, where it's possible to see everything from jellyfish and sharks to monitor lizards and alligators up-close and personal – from behind a protective glass panel, naturally.
However, the Mandalay is perhaps best known for its artificial beach, the aptly named Mandalay Beach. This 11-acre site offers an artificial beach, three heated pools, and a 1.6 million gallon wave pool, among other things. There's even a private pool club where European-style bathing is permitted, the Moorea.
Other attractions include two spas, extensive shopping facilities, and access to four of Nevada's leading golf courses. And naturally, a whole host of dining and drinking facilities are available, including seven bars and 24 restaurants. So regardless of whether you just want a beer and a burger, or a perfectly cooked meal, the Mandalay has it covered.
Stay the night in style
For those looking to enjoy an extended stay at the Mandalay, it offers three hotels – the Mandalay Bay Tower, the THEhotel Tower and the Four Seasons Hotel. With over 3,300 rooms in total, the Mandalay is able to offer accommodation to suit most budgets.
All rooms come with tea and coffee making facilities, a TV and DVD player, large beds and twice-daily housekeeping, and most of the rooms offer either stunning views of the desert, or the Strip itself. And not only will room service deliver fantastic food straight to your door, you can even have a massage in the privacy of your own room.
Mandalay Bay Hotel Facts and figures
Finally, here are some facts and figures relating to the Mandalay Bay:
Address: 3950 Boulevard South, Las Vegas
Opened: March 2, 1999
Total gaming space: 12,500 m2 (135,000 sq ft)
Total number of rooms: 3,309
Smoking: yes
Number of slots: 2,000+
Parent company: MGM Resorts International
For more information, including how to book your room, please visit the Mandalay Bay Casino official website.