Imperial Palace Casino
Of all of Las Vegas' famous casinos, The Imperial Palace is one of its most enduring. The Imperial Palace itself has been a fixture on the strip ever since it first opened its doors back in 1979, but the site on which it stands has a far longer association with gambling.
Like many of Vegas' older casinos, the Imperial Palace has a colorful history. But the fact it's survived the emergence of the big business mega-resorts of the Nineties is testament to its popularity and quality.
Nevertheless, all good things must come to an end. And the Imperial Palace – at least in its current form – currently faces an uncertain future.
A colorful past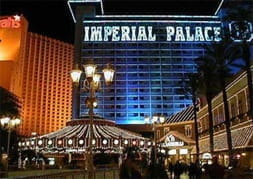 The Imperial Palace may have first opened in 1979, but its association with gambling goes all the way back to the Fifties. Between 1959 and 1979, the site on which it stands was home to the Flamingo Capri, one of Vegas' older casinos.
In 1979, the decision was taken to rebrand and restyle the casino with a more Asiatic flavor, which resulted in the Imperial Palace. The freshly revamped casino opened in 1979, and has stuck with the same moniker ever since.
Nevertheless, things haven't stood still at the Imperial Palace. And to keep up with ever more sophisticated competitors, the casino has received several notable expansions:
1980: the 850-seat Imperial Theater opens
1981: the first 850-room tower is added, and its famous Auto Collections added.
1982: A second tower is added, boosting hotel capacity to 1,500 rooms.
1986: Third tower added; room capacity 2,100.
1986: Casino floor size increased by 15,000 square feet; meeting/convention space also expanded.
1989: Fourth tower featuring various amenities added; room capacity 2,637
Nor has the casino been a stranger to controversy, especially when it came to long-time owner Ralph Engelstad's alleged Nazi sympathies.
Following Engelstad's death in 2002, ownership of the casino passed first to his trust, then to Harrah.
In 2011, Caesars Entertainment Corporation announced plans to build a new entertainment complex on its site.
Classic casino action
Although its future may be uncertain, the Imperial Palace still has a great casino. Like many of the older casinos, its floor space – 75,000 sq ft (7,000m²) – isn't quite as big as those of its more modern rivals. And with only 55 tables and 840 slots, it's clear that it doesn't have the raw capacity of some of its competitors.
Nevertheless, it offers the full complement of popular table games, including blackjack, roulette, craps, and various forms of poker – many of which are playable in the dedicated eight-table poker room.
Sports and race betting facilities are also available.
Old-school entertainment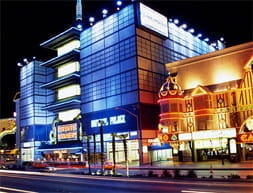 In true Vegas style, the Imperial Palace knows how to put on a good show. And befitting one of the Strip's older casinos, there's a healthy dose of period in some of its offerings, which range from Motown performances to female impersonators.
For those who fancy seeing something a little different though, there are other attractions, including psychics and the world-renowned Imperial Palace Auto Collection, featuring a classic car collection valued at more than $100 million.
Nor will you be short of places to get a drink. The Imperial Palace offers five permanent and one seasonal bar, serving the perfect cocktail from the mid-morning through to the early hours. And on the restaurant front, you have six perfectly pitched eateries to choose from, ranging from a typical American burger bar, to one of Vegas' top steakhouses, Embers.
For those who wish to cool off with a refreshing dip, the roof-top pool offers the chance to enjoy a swim while enjoying stunning views. Or if you prefer to relax with a good facial and a soothing massage, the hotel's spa is your port of call. And with other amenities including golf to shopping, there's no shortage of non-gambling activities on offer.
A tranquil night
As with most of Vegas' leading casinos, the Imperial Palace offers multiple classes of rooms, ranging from the modest, yet comfortable standard double rooms, to luxurious penthouses.
Unlike its competitors though, where marble bathrooms and other over-the-top luxuries come as standard, the Imperial Palace's rooms offer style and luxury, but in an altogether more understated manner.
One thing dog owners will especially find valuable is the PetStay system, which essentially allows you to bring the family pooch with you.
Imperial Palace facts and figures
Finally, here are some facts and figures relating to the Imperial Palace:
Address: 3535 Boulevard South, Las Vegas
Opened: 1979
Total gaming space: 7,000 m² (75,000 sq ft)
Total number of rooms: 2,640
Smoking: yes
Number of slots: 840
Parent company: Caesars Entertainment Corp.
For more information, including how to book your room, please visit the official Imperial Palace website.