Casino Bellagio
Few casino-hotels epitomize the glitz and glamour of Las Vegas as well as the Bellagio does. Combining the luxury and elegance of a top hotel with the excitement of its renowned casino, it's a name that evokes images of excellence whenever it's mentioned.
This reputation is not undeserved, and the Bellagio's commitment to excellence is renowned. Indeed, it has been awarded the coveted Five Diamond Award by the AAA – an honor bestowed on less than 0.25% of the hotels the AAA inspects – on more than ten consecutive occasions.
All this ensures that the Bellagio is now one of the most desirable hotels in the world, whose charms even Hollywood is not immune to.
A perfect blend of elegance and excitement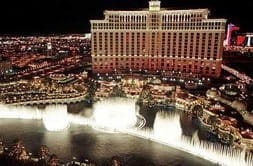 The Bellagio certainly doesn't disappoint when it comes to features. The hotel's current capacity is just under 4,000 rooms. These vary from generously proportioned, fully equipped guest rooms, to no-expense-spared presidential penthouse suites, and even villas.
The casino has around 10,800m² of gaming space. Here you will find everything from poker and roulette, to slots and baccarat, with a range of limits to suit high-rollers and inquisitive newcomers alike.
There are also lavish sports betting facilities, too.
In keeping with the casino resort model favored by Las Vegas' other big casinos, the Bellagio features a wide array of attractions aside from gambling. Its most famous attraction is its stunning fountains.
Set in a nine-acre manmade lake, the elegance and complexity of these displays ensure they are a sight to behold. The shows are choreographed to a wide array of music, and are backed up by spectacular lighting effects. Shows take place every 30 minutes during the afternoon and early evening, and every 15 minutes from 1900 through to midnight.
Naturally, other attractions are present. These include the following:
luxurious spa and salon
Mediterranean-themed swimming pool and courtyard
The Bellagio Gallery of Fine Arts, exhibiting a wide range of work from renowned artists such as Monet
A stunning array of restaurants and cafes
A selection of clubs, bars and lounges
Conservatory
Botanical gardens, whose theme switches between Chinese New Year, spring, summer, autumn and winter as the year progresses.
Closing a dark chapter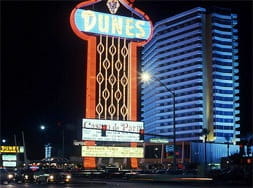 The Bellagio is built on the grounds of another famous casino, the notorious Dunes. The Dunes opened in the Fifties, and was plagued by controversy throughout its life. It was the first casino-hotel in Vegas to offer a topless show in 1957, and it was widely suspected of having strong links to the mafia.
When demolition work finally began in October 1993, it was an important symbolic milestone for Vegas. There was a sense that the city – and the Strip especially – were truly entering a new era, free from the corrupting influence of organized crime.
As a result of hotels like the Bellagio, Las Vegas' renowned gambling sector has changed. It is now a place where people can relax and enjoy themselves in safe, luxurious surroundings. No more do gamblers have to worry that they're being exploited by corrupt casinos.
A fresh start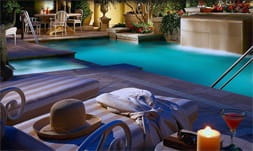 The Bellagio was the brainchild of business magnate Steve Wynn. Wynn and his companies played an instrumental part in Las Vegas' redevelopment, and the Bellagio was no exception.
Development costs for the project were more than $1.5 billion, with the finished hotel opening its doors on October 15, 1998. At the time, it was the most expensive hotel in the world.
Predictably, the launch was a sufficiently grandiose affair – the opening ceremony cost $88 million. Those lucky enough to be on the guest list were required to make donations to the Foundation Fighting Blindness in exchange for spending the night in the hotel. Single guests were required to donate $1,000, and couples $3,500.
They got value for money. Alongside a 40-minute welcome speech from Wynn, the world-renowned Cirque du Soleil put on its spectacular 'O' production. Famous recording artists Michael Feinstein, George Bugatti and John Pizarrelli also performed.
In the year 2000, Mirage became part of the MGM group. The hotel has also undergone major renovations in 2004, 2006 and 2011.
Hollywood's favourite hotel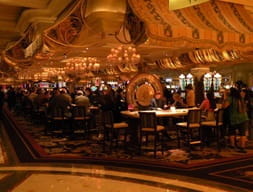 The Bellagio is especially popular with Hollywood,The casino has featured in many films. Perhaps its most famous role was in the 2001 remake of Ocean's Eleven. It served as the home of the fictitious triple vault into which the winnings from the Mirage, MGM Grand and its own casino flowed, and which Daniel Ocean (George Clooney) and his gang set out to rob.
Its legendary fountains have also served as backdrops in many memorable film scenes. Films that have featured the fountains include Lucky You (2007), 21 (2008) and Ocean's Thirteen (2007). Additionally, the hotel has been shown in 2009 disaster film 2012, and smash comedy hit The Hangover (2009).
Indeed, for many people, merely knowing that you're treading the same carpeted hallways as George Clooney, Brad Pitt, Matt Damon, Julia Roberts and co. is reason enough to stay there!
Bellagio facts and figures
Finally, here is an overview of the Bellagio Hotel and Casino:
Address: 3600 Las Vegas Blvd, Las Vegas
Opened: October 15, 1998
Total gaming space: 10,800m² (116,000 sq ft)
Total number of rooms: 3,993
Parent company: MGM Resorts International
For further information, including how to reserve a room there, please visit the Bellagio Casino official site.