Venice Casino – Birthplace of the modern casino
Gambling may be as old as civilization itself, but it was in the picturesque city of Venicewhere the first casino was established in 1638. Emerging at the same time as Venice's rise as one of Europe's true cultural and artistic capitals, the unique characteristics of the city have been reflected in the casino itself.
V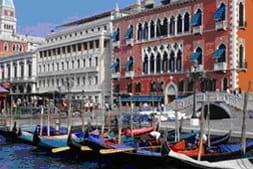 enice's first casino (itself the first casino as we would understand it today) was Il Ridotto. And although this subsequently closed in 1774, it laid down the foundations for all casinos since.
Casino di Venezia
To give you an insight into the challenges Venetian casinos have faced, look no further than the Casino di Venezia. Venice's unique characteristics and historical significance ensured that its casino could not simply grow by building an additional wing next door whenever it needed to expand.
With such an abundance of old, culturally significant buildings, the expansion philosophy of the large Las Vegas casinos (which consists of purchasing the property next door and destroying it to make way for your casino's new building) was never going to work in Venice.
The solution: simply buy a suitable building as soon as one becomes available – even if that building is right over the other side of the city! This has resulted in the Casino di Venezia being spread, at one point, across three different locations.
Ca'Vendramin Calergi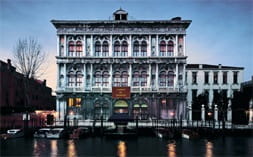 Arguably the most important of Casino di Venezia's braches is Ca'Vendramin Calergi, located in the world-renowned Fifteenth Century palace of the same name – although it's known locally as 'the Doge', due to it being (among other things) the former residence of the Doge of Venice.
Positioned on Venice's Grand Canal, it not only benefits from a classic venetian setting, but also a central location as well. This especially has proven to be invaluable since the casino's opening in 1959.
By locating it within an actual palace, this instantly offered a suitably grandiose backdrop for players to gamble in. And even today, its combination of luxury and, crucially, authentic surroundings is something few casinos anywhere else in the world can match.
Today, the Ca'Vendramin Calergi branch specializes in traditional table games, but also has a floor given over to slots. Games on offer include:
Chemin de fer (a variant of baccarat)
Trente et quarante
Caribbean stud poker
Blackjack
Roulette
Slots
However, it's not only gambling that goes on in Ca'Vendramin Calergi. Events are frequently held both within the palace itself and its gardens, including gala dinners, art exhibitions, ballet performances and concerts.
The most notable string to its non-gambling bow is the WagnerMuseum, however. This is dedicated to the German composer Richard Wagner, who frequently resided in the palace during his many trips to Venice, and actually died there in 1883.
It is also home to the Wagnerian Restaurant. Here, diners can enjoy the finest traditional venetian cuisine surrounded by classic art in each of the restaurant's three great halls.
Ca'Noghera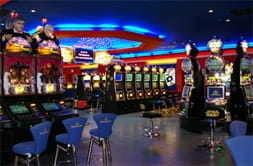 The most recent addition to the Casino di Venezia family, Ca'Noghera was the first Italian casino to offer American-style games to its patrons when it opened at the end of the Nineties.
Unlike either the Lido or is Ca'Vendramin Calergi, the casino isn't located within the main city of Venice itself, but instead is close to the Marco Polo International Airport. This casino has a modern, and informal atmosphere compared to other casinos in Venice.
At 5,500m2, its casino floor may seem small compared to the resort-style casino in Las Vegas or Macao. Nevertheless, it offers going on for twice the number of places the Ca'Vendramin Calergi does.
It offers a good spread of games, too. These include:
The casino also offers its own dining facilities, including a restaurant, pizzeria and lounge bar. As such, it's possible to order a wide array of foods, from quick and tasty snacks, to full-on traditional Mediterranean dinners.
The Lido
Up until the year 2000, the Casino di Venezia operated a further branch, the Lido. Located as the name suggests near Venice's beach, its waterfront location gave it its own distinct character, reminiscent of the Thirties.
Its location also ensured it was close to such magnificent hotels as the Excelsior and the Hôtel des Bains, giving it a real sense of class and prestige. Indeed, it was considered the 'summer residence' of Venice's casino.
Sadly, the Lidoclosed in 2000. At the time, the reason given for its closure was that it was being renovated. However, over a decade on, it has yet to reopen. Casino di Venezia has, on many occasions, hinted at reopening the Lidoone day.
Nevertheless, the Lidoremains closed at the time of writing, with no concrete indications of if – let alone when – it will ever reopen.
Venetian Hotels
Unlike modern casinos, the Casino di Venezia doesn't have any hotel facilities itself – something that is understandable, given the comparative sizes of its facilities. However, it does cooperate closely with organizations such as VeneziaSi, which offers booking facilities for 450 hotels in the city.
The Casino di Venezia also offers promotions for big events, which include package deals for meals and entry to its casinos.
Casino di Venezia facts & figures
Finally, here are some facts and figures relating to the Casino di Venezia.
Number of locations: Two (formerly three)
First opened: 1959
Parent company: Casino di Venezia
Total number of slots: 700+
Smoking: No
For further information, please visit the official Casino di Venezia website.