San Remo Casino
It may not be Europe's biggest city – it only has 57,000 inhabitants – and it may only has the one casino. But San Remois one of the undisputed jewels in Europe's gambling crown.
The city is situated on the west coast of northern Italy, and its origins date back to Roman times. Its favorable coastal location and rich cultural heritage has always singled it out as one of the Mediterranean's most prestigious tourist destinations, with its many sporting events (including the Milan-San Remo Classic cycle race, and the Rallye San Remo motorsport rally) also proving to be major draws.
However, San Remoalso has a long and proud relationship with casino gambling. It is widely recognized as the birthplace of Telesina, a variant of five-card stud poker. However, for the gambler, its biggest draw is its sole casino – the prestigious Casino Municipale di Sanremo.
A history of San Remo's Municipal Casino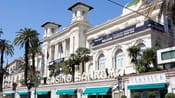 As with many of Europe's most
famous casinos
, The Casino Municipale di Sanremo, or Municipal Casino, is one of the world's oldest, dating back to 1905.
As with other famous European casinos, the Municipal Casino isn't able to quite compete with its modern rivals in Las Vegas, Atlantic City or Macao in terms of outright size. But thanks to its age, its sense of prestige and heritage gives it something the cutting edge mega-resort casinos of today can't offer their patrons.
That perfectly balanced blend of occasion and refinement becomes apparent before you even enter the casino itself. The casino remains one of the best examples of the 'liberty' architectural style which was so popular around the time of its construction in 1905.
The casino was also the only one to survive when, in 1924, Italian dictator Benito Mussolini ordered all of Italy's gambling halls closed. Part of the reason behind this decision is likely to have come from its cultural significance. Its Ariston Theatre has a longstanding reputation for putting on world-class shows, and the casino itself has featured as a location in the works of renowned Italian author, Tommaso Landolfi.
A great place to gamble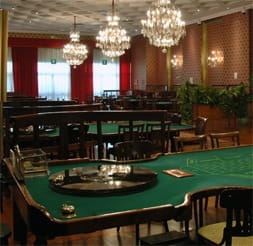 Nevertheless, the Municipal Casino's main draw continues to be casino gambling, and to this day, it remains one of Europe's premier casinos. The casino floor spans some 2,500m² (27,000 sq ft) – which is hardly big by American or Asian standards, but does compare favorably to other famous European casinos.
Within this area, you'll find more than 430 slots and video poker machines, along with some 38 tables, offering a wide variety of popular and traditional casino games. These include:
In all, there are three rooms - La Sala Gio Ponti, La Sala Sanctis and La Sala Dorata – with the latter offering private tables with limits that extend as high as $500.
A culturally rich experience
The Municipal Casino has a long history when it comes to promoting the performing arts. Even now, its Ariston Theatre offers a wide array of concerts, operas and plays for those who like nothing more than to temper the thrill of gambling with an evening of refined culture.
Its Symphony Orchestra is one of only twelve symphonies recognized by the Italian state, and performs more than 120 concerts throughout the year, mostly in the Opera Theatre of the municipal casino.
The Municipal Casino also offers a multi-disciplinary room capable of welcoming meetings, sports events and cultural exhibitions. Alongside its traditional offerings, the theatre plays hosts to Literary Tuesday, a cultural fair that receives the crème de la crème of writers and contemporary intellectual, scientific and philosophical meetings including Nobel Prize winners and film actors.
Fine dining done to the highest standards
The Municipal Casino itself has two restaurants. The Birissi is its winter restaurant, while the open-air terrace of the Roof Garden is the ideal place to enjoy a meal during the warmer summer months.
Both restaurants are renowned for their high quality food and luxurious surroundings, and are themselves the meeting place of choice for San Remo's high society, as well as the San Sylvestre gala, the gala carnival and Rose gala.
A fantastic place to stay
Unlike many modern casinos, the Municipal Casino in San Remodoesn't have a hotel of its own. However, due to its popularity as a tourist destination, the city of San Remoitself is peppered with many hotels (of which around 60 are within relatively close proximity of the casino), so booking a stay should seldom prove to be an issue.
Nor is San Remo itself a bad destination to visit in general. San Remoenjoys mild weather all year round, due to its geographical location between the Mediterranean and the Alps. These serve as a dramatic backdrop for the city, of which Monte Bignone is the tallest at 1,300m.
Being sandwiched between these two major geographical features ensures that San Remohas a pleasingly comfortable climate. This is often described as "the eternal spring", for during the day, temperatures are pleasantly warm, and at night, comfortably cool.
Many attractions are open throughout the year and there are numerous sports facilities well equipped, as well as a renowned golf course. The famous portof Porto Vecchio offers many boutiques and shops.
Besides tourism, the city produces extra virgin olive oil with recognised "appellation of origin". San Remo is known as the City of Flowers (Città dei Fiori) which is another major aspect of the city's economy.
Casino Municipale di Sanremo facts and figures
Finally, here are some facts and figures relating to the Municipal Casino of San Remo:
Address; Corso degli Inglesi 18, 18038 Sanremo
Total Gaming space: 2,500m² (27,000 sq ft)
Opened: 1905
Parent Company: Municipal Casino San Remo
Total Number of slots: 430+
Smoking: No
For more information, including how to book an evening at the casino, please visit the San Remo Casino official website (Italian only).