Cunard Line Casinos
There are many great operators in the cruise business, but few have a heritage and reputation as rich as Cunard's.
Since the first Cunard voyage set course for Halifax in May 1840, the world has undergone many changes. Empires have risen and crumbled, rising prosperity has been tempered by bouts of crushing economic downturns, and world wars have been waged. But none of this has prevented Cunard from establishing itself as one of the world's leading operators.
Cunard Line fleet of cruise liners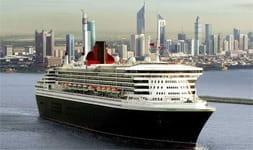 At three ships, Cunard's current fleet is certainly not as big as some of its rivals, such as
Carnival Cruises
and
Celebrity Cruises
. But in terms of prestige, these vessels are among the most famous around.
The Queen Mary II (also known as the QM2), Queen Victoria and Queen Elizabeth are all very modern vessels, with the first of them, the QM2, being introduced as recently as 2004. Another vessel, the world-renowned Queen Elizabeth II (affectionately known as the 'QE2'), was retired in 2008 after almost 40 years of service.
Nevertheless, these three vessel manage to visit a wide array of destinations. The traditional transatlantic voyage, starting off in the UK port of Southampton (the home of Cunard) and heading over to New York with a stop off in Hamburg, remains a traditional favorite.
However, Cunard ships operate on a number of different routes as well, including the following: prestigious
The Mediterranean
Northern Europe and the UK
Scandinavia, the Baltic and Iceland
The Canary Islands, Madeira and the Azores
The Caribbean
The USA and Canada
And for those who wish to cruise in style, there's even world tours available.
Cunard Line casinos on-board
Befitting vessel that have been built from the ground up to offer their passengers uncompromising luxury and entertainment, all three of Cunard's current vessels have onboard casinos.
Suffice to say, these casinos are well equipped. The Empire Casino onboard the Queen Mary II, for instance, offer 12 different table games including blackjack and roulette, alongside 75 slots.
As Cunard is part of the Carnival Group, which owns Carnival Cruises, Members of the Ocean Players Club can make use of their membership onboard. This includes being rated when playing table games in the casino, as well as earning points that can be used for cash-back rewards and discounts on future cruises.
Be that as it may, curious newcomers are also welcome in casinos. Indeed, it's possible to sign up for lessons in casino gambling while onboard.
Cruising in style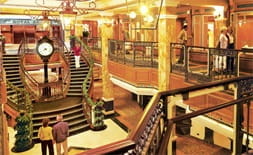 Befitting vessels with a reputation for uncompromising luxury, all three of Cunard's current vessels offer a wealth of entertainment options with a typically British twist.
Traditional staples include swimming pools, gyms, deck sports, tennis courts, fitness classes, spa treatments, shops and restaurants (including the option to enjoy an English afternoon tea).
But while onboard, you'll find other things too. You can sit back and watch a movie, or select a book or two from the vessels' extensively equipped libraries. Or, for those who enjoy the finer things in life, you can tour fine arts galleries or even take in an orchestral performance while on the high seas.
A number of education courses are also available, ranging from computer lessons to lectures on famous authors from the ships' expert librarians.
Cunard Line Cruises facts & figures
Finally, here are some facts and figures relating to Cunard Cruises:
Size of fleet: three ships
Destinations: New York, Southampton, the Caribbean, Scandinavia, the Baltic, Iceland, the Canary Island, the Azores, Madeira, Canada, the Middle East, China, Asia, South Africa, Australia, and more
Connectivity: Cell phone, internet (State room, wifi hotspots, internet café).
For more information, including how to make a reservation, please visit the Cunard Line Cruises official website.