Celebrities with a gambling problem: Michael Chopra
21-06-2014
Scottish loan sharks threatened former Premier League striker Michael Chopra due to enormous gambling debts. Chopra developed a gambling problem in his days as a young Newcastle United player. He would easily
wager up to £30,000
while travelling to matches.
Massive gambling debts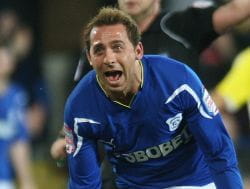 Chopra claims he lost nearly £2 million in
sports betting
. The former striker also revealed he had signed for Sunderland in order to pay off his debts. His father was even forced to sell his house to pay Michael's betting debts. Recently, the 30-year-old revealed he would move to the Indian Super League.
Gambling as a team ritual
"I discovered gambling when I was a teenager, en route to matches with the first squad. Most of my teammates played
card games
, and wagers up to £30,000 were no exception. We always went to the bank before getting on the team bus. You may say that it was one of our team rituals", Chopra once said in an interview.
Match-fixing
Gambling addictions are a serious problem among British football players. Last year, an independent regulatory commission ordered Andros Townsend to serve a one-month ban. The Tottenham Hotspur winger had breached Football Association betting rules. Additionally, the rapid proliferation of illegal gambling has boosted
football corruption
.