Vietnamese police arrest two footballers for betting
01-05-2014
Vietnamese police have placed two Vissai Ninh Binh players into custody for alleged betting on a match two months ago. Local media report that the duo reportedly
placed bets on their match
against a Malaysian team. Both footballers face forty days in custody, a police spokesperson stated.
Illegal bookie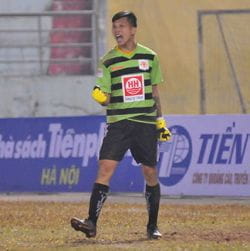 Tran Manh Dung and Nguyen Manh Dung are accused of organizing betting, and they risk a
maximum prison sentence of ten years
. Police believe that Dung invited eight people to place bets with a black-market bookmaker located in Hai Phong City.
Winning bets
Kelantan lost the match against Vissai Ninh Binh with the
gambling footballers
winning the bets. The illegal bookie transferred the winnings the next day, and one of Dung's friends collected the money in Ho Chi Minh City.
Additional arrests
Vietnamese authorities have issued a travel ban on both Vissai Ninh Binh footballers. At this stage it's unclear if there were
more illegal bets
. Police may arrest more players as the investigation is still underway, read a statement.