Trio indicted for football corruption charges
18-06-2014
Three men are facing charges of football corruption in British football. 33-year-old Chann Sankaran, and 44-year-old Krishna Ganeshan
recruited players
in lower football leagues. 22-year-old Michael Boateng, who used to play for several Conference South teams, has also been convicted.
Match-fixing duo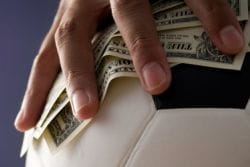 Authorities believe that Sankaran and Ganeshan operated the football corruption ring on Far Eastern betting markets. An ex-Fifa official investigated the matter and discovered that Sankaran was one of the match-fixers. He tipped a newspaper about the
football corruption ring
, after which the National Crime Agency launched an investigation.
£87,000 profit on one match
An undercover agent with the National Crime Agency had a meeting with Sankaran and Ganeshan in Manchester. Ganeshan said he would rake in about £87,000 on a match between two non-league teams in late November 2013. Charges were dropped against 23-year-old Hakeem Adelakun, while Moses Swaibu remains a suspect in the
football match-fixing case
.