Thai sports bettor turned to crime
19-05-2015
Sports betting is an extremely fun pastime, but an obsession always lies in wait. Chonlathit Yensuthon can bear witness to this fact. The Thai sports bettor was
gripped by the gambling epidemic
, which resulted in huge debts.
Betrayed by his girlfriend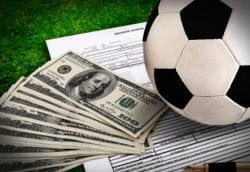 The man from the city of Lampang (northern Thailand)
lost control over his sports betting habit
. Yensuthon became distraught, and he turned to crime. The 32-year-old pathological gambler robbed a bank based in the city of Chiang Mai. His partner informed the police about the holdup, followed by the arrest of the debt-laden football bettor.
$3,900 within 15 minutes
Yensuthon carried a firearm when he robbed a Thanachart Bank branch last week. The 32-year-old problem gambler stole about $3,900 during the 15-minute robbery, according to local media. Yensuthon admitted the incident, and claimed that his
gambling debts had made him desperate
.