Tabloid The Sun unveils match-fixing rigger
09-12-2013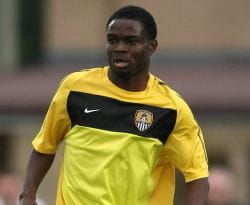 The National Crime Agency (NCA) is investigating a match-fixing case, which involves a Championship game. Tabloid newspaper The Sun claims that ex-Portsmouth defender Sam Sodje is the main protagonist in the corruption case. Championship players reportedly received large amounts of cash for
deliberate yellow cards
.
Match-fixing rigger
The investigation also showed that Sodje allegedly could fix
Premier League matches
, in addition to World Cup 2014 games. Hidden cameras were able to record how the former Nigeria international told that players would receive thousands of pounds for deliberate yellow cards. Additionally, Sodje confirmed he collected a
£70,000 reward
after getting deliberately sent off in a Portsmouth match earlier this year.
Football integrity in danger
"It would be very disappointing and shocking if the match-fixing claims are true as corruption endangers the integrity of the game. The accused footballer is no longer under contract with Portsmouth. Obviously, we will cooperate with any investigation with regard to match-fixing," a spokesperson for England's
largest fan-owned football club
stated.