Suárez' biting results in rewarding bets
26-06-2014
Suárez did it again and faces another suspension. For many bettors Suárez' third biting incident didn't come as a surprise. Nearly 150 Norwegian punters raked in a nice amount after the Liverpool striker failed to control himself in the final group match against Italia.
Backslider from Uruguay
"One bettor took home a whopping $2,728 thanks to
Suárez' bite
", a spokesperson for an online sportsbook commented. The odds that the Liverpool striker would lose control of himself were 175:1, which seems rather modest as Suárez had previously bit two other players.
How long will he be banned?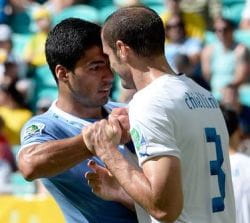 Suárez-related bets have now shifted to his
upcoming suspension
. Let's take a look at a few options at multiple online betting sites:
Suspended for the rest of 2014
Banned for the remaining world cup matches
No suspension
Life ban
World cup betting excitement
Unibet
offers bettors a whole host of world cup bets, including several entertaining specials:
First time world cup winner
Winning federation
Number of own goals
Red card coach of Dutch national team
One thing for sure, the football tournament in Brazil makes
sports betting
even more exciting.