Sex at Norwegian horse racing track
06-02-2012
An extraordinary incident at the Leangen Travbane horse racing track in Trondheim, Norway. An online TV channel showed how a duo had sex while the jockeys and their horses were rushing to the finish line.
Sex scene at horse racing track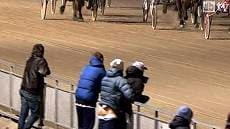 Horse racing is popular among
Norwegian
gamblers and many horse races are live broadcasted over the internet. For that reason, many Norwegians witnessed the sex scene while they were watching the horse race online. They suddenly saw a bare ass of a man who seemed to be making love to the person in front of him. The other spectators weren't aware of the sex scene as they were focusing on the finishing horses.
No real sex
Norwegian TV channel Rikstoto Direkte broadcasted the horse race at the Trondheim-based horse track. They believe it was a joke and that the couple didn't really had sex. "Everything suggests that somebody tried to be
funny
. Everybody can view our live TV channels and share them through social media. Therefore the video has spread rapidly around the internet," a Rikstoto Direkte spokesperson commented.