Rangers player allegedly bet against his own team
24-08-2013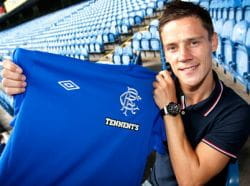 The Scottish Football Association has accused central midfielder Ian Black of betting against a club that paid his wages. Black, who now plays for
Glasgow Rangers
, reportedly wagered three times on matches in which he was involved. The former Inverness and Hearts midfielder faces severe sanctions, including a lifetime ban.
Betting footballer
A spokesperson for the Scottish Football Association revealed that footballers are not allowed to place wagers on any match, regardless of the competition. It remains unclear on which matches Black wagered. The 28-year-old Rangers player has until the 26ht of August to respond to the allegations, and the first hearing is scheduled for September 12.
Match-fixing still unknown
It's not customary to
place wagers
against the club that pays your wages. However, there have been reports about non-football players who bet against their own club. The Australian cricket players Dennis Lillee and Rodney Marsh placed wagers on an international match against England back in 1981. However, corruption was still an unknown phenomenon in those days.