Prison sentence for betting Vietnamese politicians‎
21-07-2012
A Sóc Trăng-based court has sentenced two Vietnamese politicians to five years in prison. They placed huge bets on Xiangqi games and are now facing up to five years in prison, Vietnamese media reported. The convicted duo used to work for the Sóc Trăng government.
Gambling debt of $1 million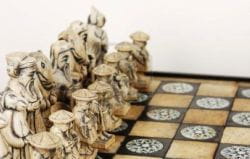 One of the politicians, Nguyen Thanh Leo, was arrested while he was wagering up to $240,000 per chess game. Tran Van Tan, an-ex manager of a government-operated driving school in Sóc Trăng, was also arrested. Leo was indebted to Tan to the tune of almost $1 million.
Blackmail
Tan is now facing 17 years in prison after he pleaded guilty to charges of gambling and blackmailing. He extorted punters who failed to meet their credit obligations. Additionally, Tan sent two men to threaten Leo.
Popular strategy board game
Vietnamese citizens are not allowed to gamble. We recently reported about
Asian gamblers who were arrested in Abu Dhabi
. There are a few casinos in Vietnam that are only available to foreign gamblers. Xiangqi is a strategy board game that is popular in countries like China and Vietnam. The game features two armies that try to capture each other's general.