Oklahoma City residents found guilty to illegal gambling
13-07-2013
Two Oklahoma City residents have entered guilty pleas for gambling. Teddy Mitchell and his son Ryley allegedly operated an online gambling site. 58-year-old Teddy Mitchell stated in court that he and five associates ran the betting site over a six year period.
Betting operation inside jail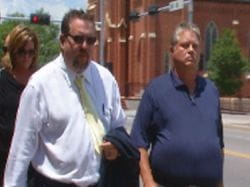 Mitchell told US district judge David Russell that he had been a bookmaker for many years. Even in jail he continued to run his betting operation. Russell accepted
sports bets
for approximately 60 gambling fans, including several bettors residing in other states.
Money laundering
The 58-year-old bookie revealed he paid taxes on his betting proceeds, while he also invested his in real estate. He used the property investments to launder the gambling incomes, and thus breaching money-laundering laws. However, Mitchell claimed he wasn't aware of the fact that he violated federal laws.
Easy job
32-year-old Ryley Mitchell admitted he took part in the
online betting racket
over a four year period.  "My job was to contact bettors, collect money and pay out winnings," Ryley said. The 32-year-old added that he used $10,000 in betting incomes to pay off his mortgage. Other associates have already been found guilty, with the same applying for several bettors.