Liverpool fan stakes his manhood
28-04-2014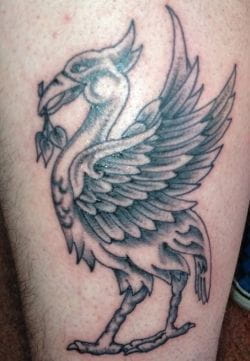 We don't have a grudge against Liverpool, but we hope they don't win the Premier League. Please let us explain why. Meet 27-year-old Tom Pound, a Liverpool fan who would give anything for Liverpool's first title in 24 years. He even staked his manhood in a bet that 'the Reds' will win the Premier League.        
Manhood tattoos
It remains unclear if Pound made the bet when he was drunk, but it's definitely a crazy one. The 27-year-old
Liverpool
fan will have the famous Liver Bird, in addition to 'you'll never walk alone' tattooed on his
one-eyed monster
if his beloved club wins the league.
Enough space
He made the bet with his girlfriend Kylie Brinkley and father-in-law Stephen. "There's
no going back
, we will make sure that he keeps his promise. Frankly, I'm not sure if there's enough space for both tattoos", 25-year-old Kylie noted.
Controversial stakes
This bet may seem controversial, it shrinks into insignificance compared to a football bet in Uganda. Arsenal fan Henry Dhabasani made a bet with
Manchester United supporter Rashid Yiga
, staking his house. Yiga on the contrary bet both his car and his wife on United winning the Premier League clash. Yiga must have been relieved after Van Persie gave the 'Red Devils' the victory.