Indian cockfight bettors detained
10-01-2013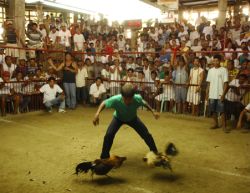 Indian Police have arrested a group of 8 Coimbatore and Tirupur residents for gambling on cockfights. Especially youngsters in the state of Tamil Nadu love to bet on their favorite rooster, an activity that rises significantly during the Pongal festival.
Disgraceful
BestOnlineCasino.com disapproves this blood sport between roosters that fight to the death. Luckily there a wealth of
ethically correct bets
, such as the
Kate and William contest
.
Cockfight raids
Singanallur Police raided cockfights that were held in the city of Coimbatore. They arrested 4 suspects who were betting for money on cockfights that took place on Masakalipalayam road.
Cell phones, motorbikes and cash
A police spokesperson revealed that they confiscated two roosters. Additionally, Avinasi Police arrested 4 suspects for betting on cockfights. Police officers also confiscated cell phones, motorbikes and cash.