Incredible gambling wins: In every inch a legendary gambler
19-09-2015
The nickname 'Amarillo Slim' is definitely legendary in the world of gambling. Thomas Austin Preston was not only a talented poker player, the Texas resident was also an
extravagant bettor.
Amarillo Slim supposedly bet on just about anything.
Not quite media-shy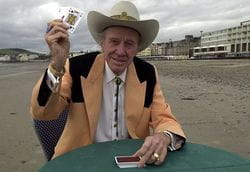 Preston liked media attention and he frequently appeared on television shows. His son Bunky described his father as an
interesting man
, who joined the Poker Hall of Fame in 1992. Amarillo Slim was also the author of several gambling-themed books, while he also published an autobiography.
Skinny Amarillo resident
The professional gambler spoke with a southern accent and he was often seen wearing a cowboy hat. In addition to
sports betting
and poker, Preston also liked to play pool. In his early days, he was a famous 'pool table hustler'. His nickname referred to the town where he lived, Amarillo, and to his skinny appearance.
Saved by a frozen lake
As mentioned before, Preston loved all kinds of bets. He was everything but modest as he called himself 'the world's number one gambler'. Amarillo Slim was also known for his extraordinary side bets, such as the one he made with Evel Knievel. The legendary gambler claimed he could
strike a golf ball over 5,280 feet, using a hammer
. Preston reportedly bet $1 million. It turned out a winning bet as the ball slipped over a lagoon covered in ice.