Incredible gambling wins: historical bet nets £10k
12-09-2015
A space enthusiast from Preston (Lancashire) made a surprising bet back in 1964. David Threlfall wagered £10 that a man, woman or child would walk on the moon before January , 1971. He placed the bet at William Hill, which offered him
1,000 to 1 odds
.
Unusual request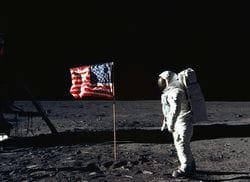 At the time, only several people had made a successful space trip, making Threlfall's bet even more risky. "I would like to place a £10 wager that a human being will land on the moon before January 1, 1970", he wrote in a letter to the famous bookmaker. William Hill was the first bookie in the UK to accept a space wager.
Foolish bet
"We are facing a £50,000 loss if NASA succeeds in its mission to land a man on the moon before August 1", one of William Hill's betting brokers noted. "This bet doesn't make much sense as the bettor in question has
more knowledge about astronautics than we do
."
British sports car
Lots of bettors tried to purchase Threlfall's betting slip, including offers worth thousands of pounds. He turned them all down, and when Neil Armstrong set foot on the surface of the moon in 1969, Threlfall took home a whopping
£10,000 in cash
. He used the winnings to buy a E-Type
Jaguar
.