Incredible gambling wins: $200,000 grandson bet
05-09-2015
The world cup qualification match between Belgium and Wales in October 2013 will always be a special one for Harry Wilson. The game marked his first international cap for Wales. However, his grandpa could have been even more excited when Wilson entered the pitch.
Great investment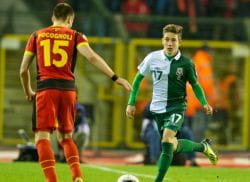 In 2000, Peter Edwards decided to bet $80 that one day his grandson would represent the Welsh National Football team. So, when Wilson made his debut thirteen years later, Edwards realized he had won big time. Indeed, the
bet on his grandson resulted in a $200,000 bonanza
.
Early retirement thanks to winning bet
Needless to say that the
winning bet
changed Edwards' life as the money allowed him to enjoy an early retirement. "I didn't think twice about quitting my job. My boss knew that I would retire straightaway if my grandson would make his debut for the Welsh national team", the fortunate grandpa commented.
Early intuition
"Harry started playing with the ball yet before he could walk, which made me think about a career as a professional footballer. For that reason, I decided to place a bet that he would get the opportunity to represent the national team", Edwards added. Wilson signed his first professional contract with
Liverpool
in the summer of 2014.