Hammer-wielding problem gambler raided betting office
04-10-2013
An addiction can lead to desperate deeds, which is exactly what happened to Michael Birch. The Southampton native suffered from a compulsive gambling addiction and he robbed a betting shop. He used a hammer to menace a shop clerk and demanded money from the cashier.
Violent robbery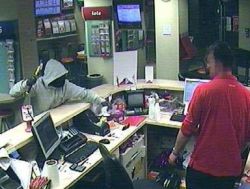 Birch entered the Ladbrokes outlet just before closing time. At the time of the raid, one of the bookmaker's clerks was removing cash from one of the gambling machines. The
hooded robber
was carrying a hammer and he urged the cashier not to hit the emergency buttons. Birch managed to steal £1,637 from the betting office.
Confession
Less than 24 hours after the violent incident, the gambling addict
decided to come clear
. Birch approached a police officer and told him about the robbery. The 30-year-old man revealed he was driven by his addiction to gambling. Additionally, Birch told the police officer where they could find the hammer and clothing he wore during the raid.
Gambling after split up
The Southampton resident has been found guilty of robbery. His lawyer stated in court that Birch became addicted to gambling after his relationship broke down. The
desperate gambling addict
decided to rob the Ladbrokes shop as he was running out of money. Birch feels enormous remorse over his actions.