Georgia resident may lose its cockfighting ranch
13-08-2012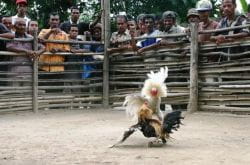 Cockfighting is illegal in most US states and it was banned in Georgia back in 1933. Wallace Hurst reportedly operated cockfights at his farm. The 57-year-old man may lose his property after police officers raided the premises. They seized an all-terrain vehicle, guns and $10,000 in cash. Hurst may lose his farm and the assets seized.
32 arrested
Police officers detained 32 suspects during the raid and they are all accused of illegal betting. Hurst is also accused of breaching the Georgia Racketeer Influenced and Corrupt Organizations Act, in addition to animal abuse. His lawyer refused to comment on his client's case and added he was investigating the accusations. All assets seized may go to the Colquitt County District Attorney's office.
Bloody form of animal cruelty
As long as there are humans there will be gambling and betting. Those who like to gamble will always find ways to enjoy their favorite pass-time. However, in case of cockfighting it involves innocent roosters and it's a bloody form of animal cruelty.
BestOnlineCasino.com
disapproves all forms of cockfighting and we support banning the whole industry.