Colquitt County Sheriff's officials raid illegal cockfights
10-07-2012
Thirty two suspects have been charged with gambling offenses after they were caught betting on chicken fights in Moultrie. Colquitt County Sheriff's officers raided the premises where the suspects were wagering on cockfights. The group of arrested people included both male and female suspects. Around 40 chickens were seized by animal control.
Animal cruelty charges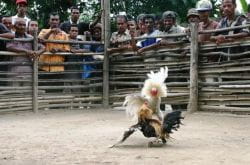 The chicken fights took place on a premises located on Georgia Highway 256. Most
arrested
people are also facing animal cruelty charges, while the premises owner is charged with more severe offenses. "He is charged with animal cruelty charges, in addition to charges for operating a gambling ring, and violating the Racketeer Influenced and Corrupt Organizations (RICO) act," read a statement from the Colquitt County Sheriff's Department.
Still legal
Cockfights are prohibited across the US, with Louisiana being the last state to outlaw the rooster fights. However, it is still allowed in the American territories of Puerto Rico, the Virgin Islands, the Northern Mariana Islands, and Guam. Cockfighting is also legal in countries like Perú, México, Nicaragua and Thailand. Rooster fights are popular in many Latin American and Asian countries.