Cockfighting ring uncovered in Ho Chi Minh City
16-06-2013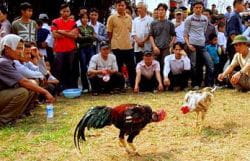 A cockfighting arena based in a suburban district of Hồ Chí Minh City has been uncovered by Bình Chánh Police. Nearly 124 persons have been booked in a raid that involved 100 police agents. The cockfighting ring was located at a property close to an industrial park called 'Le Minh Xuan'.
Cock fighting 7 days a week
Authorities recovered a sum of 100 million Vietnamese Dong. Additionally, they confiscated 8 roosters, more than 60 mobile phones, and 60 motorbikes. According to a spokesperson for the Bình Chánh Police, the cockfighting ring had been operating for about five months. Punters could place wagers seven days a week from 9am to 3 pm.
15 dead cocks
There was another report about a
cockfighting ring
in the small town of Silsbee, Hardin County, Texas. Local police raided the premises as part of an investigation into alleged
dog fighting
. More than 50 persons were arrested on illegal betting charges. Police officers discovered 15 dead cocks, in addition to 60 roosters still alive.