Chinese authorities arrest 108 illegal bettors
14-07-2014
Chinese authorities have booked more than 100 bettors for their involvement in world cup gambling. According to Chinese media, police
recovered a sum of 18 billion Yuan
in betting money. Various betting cases demonstrated bets with a total value of nearly 18 billion Yuan.
VIP bettors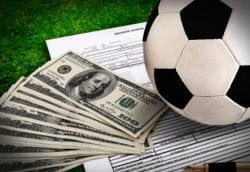 Authorities in eight regions cooperated to smash an online betting network that operated from the Philippines. The internet gambling site offered a VIP membership for 20,000 Yuan, and those VIP players received commissions for introducing other gamblers. Police arrested 17 suspects, among which two leaders. The
underground betting ring
generated a whopping 200 million Yuan over a six month period.
Crack down on betting
Chinese authorities started to clamp down on
illegal betting activities
after the world cup kicked off in June. They busted underground gambling operations across Guangdong, Shanghai, Jiangsu, Liaoning and Fujian. The Chinese government believes gambling can lead to socially undesirable behavior.