Charlotte-Mecklenburg authorities bust underground betting ring
04-02-2015
Charlotte-Mecklenburg Police have arrested two suspects in connection with an underground bookmaking business. The illegal activities took place at a shop located at Wilkinson Boulevard. Police believe that the
illicit sports betting operation
had been in business for about nine months.
Charged but released on bail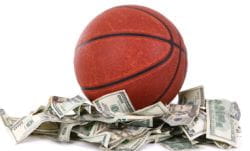 The two women arrested, Phetsamon Phongsavath and Ammone Phongsavath, face charges of operating an
illegal gambling operation
. The duo has been released on bail, according to local media. One of the clients, who had bet nearly 50 times in the last couple of months, informed the police about the betting operation.
Brief betting visits
The informant told police officers that two Asian women accepted the bets, which varied from $20 up to thousands of dollars. It took most punters only a few minutes to
place sports bets
at the Charlotte-Mecklenburg shop. Subsequently they returned to pick up their money in case of winning bets. An undercover investigator noted how one of the women accepted a wager on a college basketball match.