Celebrities with a gambling problem: Tim Donaghy
06-09-2014
It wasn't very surprising that Tim Donaghy couldn't resist the temptation of bribery as it is an open secret that he likes to gamble. The former NBA referee was engaged in a betting scandal back in 2007. Donaghy is a free man again after spending
13 months behinds bars
.
Basketball fan
In late 2012, the ex-referee made his comeback as one of the spectators at a game between the New York Knicks and Dallas Mavericks. "I can't imagine that they will kick me out, I only want to
enjoy some live basketball action
. Frankly, I don't think people will recognize me, and if they do they will probably don't make any remarks", Donaghy commented before entering the stadium.
Gambling charges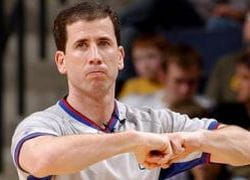 The father of four decided to quit arbitrating after he was arrested for alleged
basketball corruption
in 2007. Police investigation revealed that Donaghy had placed bets on basketball matches over a period over four years. Additionally, he supplied information to other people in order to receive significant amounts of money.
Career switch
It remains unclear if Donaghy actually has a gambling problem. One thing's for sure: he definitely loves the gambling industry. After doing time, Donaghy focused on a handicapping career at an
online gambling site
. "I'm pleased to use my basketball expertise to help punters, which is a rather gratifying practice", Donaghy noted.