Celebrities with a gambling problem: the Office
25-10-2014
'Safety Training' is the Office episode that features a gambling element. The Dunder Mifflin crew starts
betting on several topics
, a movement initiated by Kevin. The latter is looking for things to bet on as the March Madness betting has ended.
Unfair winner
As you might have expected, the betting spree leads to controversy among the office crew. On one occasion, Karen, Jim, Oscar, and Kevin wager on the number of jelly beans inside Pam's candy jar. Kevin turns out to be a bad loser as he claims that Jim
won the bet
because he had spent much time at Pam's desk.
Curious bets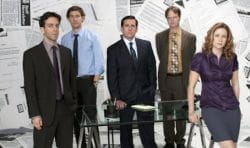 In addition to the jelly beans bet, the Dunder Mifflin office crew wagers on things like:
How many times Kelly mentions Netflix
How many times Kelly uses the word 'awesome'
How many times Kelly whines about romantic sitcoms
At the end of the episode, the office staff bets on whether Creed will discover if his apple gets substituted for a potato. Karen proves to be a poor punter as she loses all bets.