Celebrities with a gambling problem: Phil Mickelson
19-04-2014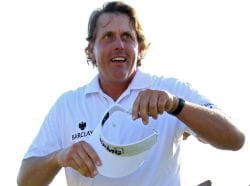 US golf pro Phil Mickelson likes to gamble at
casinos in Las Vegas
, and some sports journalists like to believe that Mickelson has serious gambling issues. First of all, Mickelson has never tried to hide his gambling habit. Second, all rumors about
excessive gambling debts
have never been proven.
Golf bets
Mickelson is also a
sports betting
fan, and he even placed wagers while playing golf. The professional golfer also challenged fellow pros to bet on certain shots. He was warned by the PGA Tour as Mickelson made golf with bets involved his hallmark. However, Sports Illustrated investigated his gambling activities and didn't find any excessive patterns.
Massive sports bets
The San Diego resident reportedly won a whopping $560,000 thanks to a successful Super Bowl bet. Mickelson cooperated with a syndicate to place a $20,000 bet on the final in 2000. Additionally, the golf professional bet a huge amount on a baseball game between the Arizona Diamondbacks and New York Yankees. In 2004, rumors emerged again about a
large gambling debt
, after Mickelson suddenly ended the sponsor cooperation with Titleist.