Celebrities with a gambling problem: Matthew Etherington
05-07-2014
Matthew Etherington discovered gambling when he played at White Hart Lane. In the beginning of his gambling career, he would wager not more than £20 a time. But he lost control over his habit, and soon he was gripped by the betting epidemic. He would easily bet a whopping £40,000 a week.
Loan sharks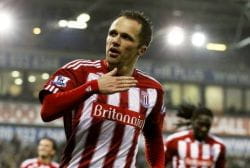 The winger claimed he
blew nearly £1.5 million
at the peak of his out-of-control gambling habit. After his transfer to Stoke City he decided to seek help. "Things got really bad when I used my entire salary to gamble, which forced me to take out
illegal loans
. I wasn't always able to pay the money back, but they never threatened me", Etherington told in an interview.
Devastated, but only for a moment
"Gambling was my first thought when I woke up, after which I headed to a bookmaker or I placed bets online. It really affected my performance on the pitch as my focus was on
sports betting
. After losing large amounts I was devastated, but that only lasted a few minutes. Subsequently, I started thinking about how to obtain cash to feed my betting addiction. Despite the fact that I realized it was getting out of hand, I continued to gamble", the Stoke winger said.