Celebrities with a gambling problem: James Coppinger
09-08-2014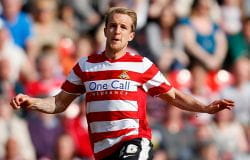 It is rumored that James Coppinger has a betting problem, which was fueled by a race-fixing inquiry. The Doncaster Rovers midfielder claimed he had nothing to do with the betting scandal. However, Coppinger received a
36-month suspension
from betting on horse races.
Race-fixing scandal
Some say the horse racing ban may be just what Coppinger needs to overcome his gambling problem. The British Horseracing Authority alleged that nine individuals, including Coppinger, had conspired to fix races with jockey Andrew Heffernan. The other two footballers,
Michael Chopra
and Mark Wilson, were also banned from any involvement in British horse racing.
Serious gambling problem
Detractors claimed Coppinger was visiting betting shops way too much. However, it has never been proved that he actually had a gambling problem. Michael Chopra on the contrary, came clean and confessed he was
addicted to gambling
. The former Blackpool striker was gripped by the betting epidemic, and Chopra's father had to sell his house to settle the gambling debts.