Celebrities with a gambling problem: Floyd Mayweather, Jr.
14-06-2014
Twitter has become a popular platform to share things with the rest of the world. Some gamblers use Twitter to display their winnings. That's exactly what Floyd Mayweather, Jr. when he won a whopping
$75,636.35 in cash
courtesy of a bet on a national championship game.
High roller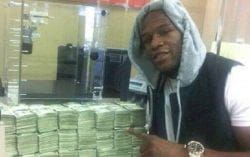 In 2012, the American boxing champ took home about $3 million thanks to college football bets. Those reports have never been confirmed, but they have fueled rumors about a gambling addiction. It's an open secret that Floyd Mayweather, Jr. likes to wager large amounts on sports events. Some claim he tends to bet up to
$400,000 per game
.
Look for the right bets
"If you like
sports betting
, you should look for bets that you really feel confident about. Those bets are worthwhile to increase your stake", the professional boxer once said in an interview. This quote raises the question if Floyd Mayweather, Jr. actually suffers from a gambling problem.
Three stages
Addiction experts say that such problem develops progressively, and features three stages. It all starts with winning considerable amounts, which results in larger bets. In the second stage, gamblers try to cover up their losses. The third stage can be best described as
'desperation'
, and it can result in problems with relatives and even the police. It remains unclear whether Floyd Mayweather, Jr. has a gambling problem.