Bettor cashes £170,000 thanks to goal in 101st minute
17-02-2015
For some players scoring the winning goal in stoppage time is like an orgasm. An online sports betting enthusiast has experienced the same sensation. His orgasm however is a
£170,000 payout
thanks to a goal in the 101st minute, scored by Leyton Orient winger Dean Cox.
Winning bets prior to family day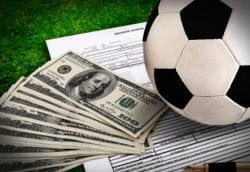 The League One clash between
Chesterfield FC
and
Leyton Orient FC
ended in a 2 – 3 victory for the visitors. A 33-year-old punter was extra happy with the late win as it earned him a £169,923.01 payout from a £1 accumulator. The winner, who asked that his name be kept confidential, placed the bets prior to visiting the park with his family.
Investment in son's future
"We decided to open an
online sports betting
account in an attempt to collect some cash for our five-month-old son. The idea was to bet small amounts every now and then, and all winnings would flow into our son's savings account. We will use some of the winnings to purchase a home, but the majority of the cash will go into our son's savings account", the fortunate football punter commented.