Authorities bust underground horse racing operation in Crosby
14-10-2013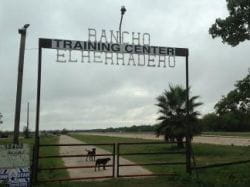 Texas authorities have flushed out an illicit horse racing track located at a ranch in Crosby. Police booked nine suspects, among which six law enforcement officials. The investigation into the underground horse racing operation took more than ten months. All suspects arrested have been accused of
unlicensed racing
.
Extremely disappointing
The extensive investigation consisted of several undercover observations. "It was a
great deception
and really disturbing that law enforcement officers were engaged in such illegal activities," a spokesperson for the HCDAO Public Integrity Division commented. The premises owner lives in another region and he had hired a man to observe the ranch, according to locals.
Gambling operation in neighborhood
Another local revealed that the proprietor had started the horse racing operation a few years ago. "Frankly, I didn't had a clue what they were building. We were surprised that it turned out to be a horse racing track. I never expected to find an
illegal gambling operation
so close to my home," he said.
Nuisance
The betting operation had resulted in
increased traffic flow
, plus noise pollution, according to neighbors. Agencies and entities participating in these raids were Harris County District Attorney's Office, Texas Department of Public Safety and Texas Rangers.