Australian sports betting site ordered to remove ad
29-06-2013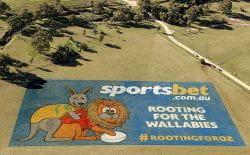 Australian-based Sportsbet used an unoccupied land close to Melbourne Airport to paint a huge ad. The leading online bookmaker has been forced to get rid of the rugby billboard. The Victorian Government ruled that Sportsbet had painted the ad on the field without permission.
Controversial position
The outdoor billboard featured the mascots of the Australian, British and Irish rugby teams. However, the mascots were painted in a controversial position. 'Rooting for the Wallabies' was painted on the right side of the advertisement. A spokesperson for the
sports betting
agency revealed that it would
cost nearly $20,000
to remove the billboard.
Dull idea
Initially, Sportsbet announced that it would object to the Victorian Government ruling. But soon they stated: "We will remove the painting if we are obliged to do so." Removing the outdoor advertisement took longer than the Victorian Government had hoped. "It was a dull idea and they didn't even had a permit to paint the rugby ad," a government official commented.