Another rewarding betting session for Floyd Mayweather
13-10-2014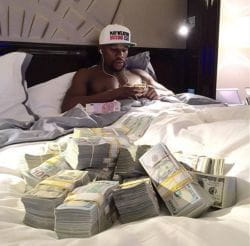 It's an open secret that Floyd Mayweather jr. loves to bet on sporting events. Yesterday, the undefeated boxer raked in a whopping $1.4 million. Mayweather has collected an impressive
$3,267,637.36 in less than three weeks
.
Successful bettor
The American boxing champion, the world's highest-paid athlete, had already cashed $1,825,714.28 thanks to winnings bets on two NFL games. Last week, Mayweather jr. revealed on
Instagram
that he had won $1.4 million in a single bet on the Colts. Needless to say that the boxer is one of the world's most successful sports bettors.
No losing betting slips
Mayweather is definitely a high roller as he tends to place gigantic bets. According to market watchers, the US boxer posted 46 betting slips on
Twitter
over a period of 18 months. All of them were winning bets, handing Mayweather $3,890,833 in cash. Strangely enough, he never posts losing betting tickets, as a result of which his losses remain one big mystery.