68-year-old bookmaker sentenced to 16 months in jail
22-08-2013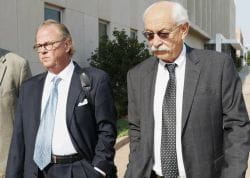 68-year-old Richard Allen Hancock has been sentenced to 16 months in prison for his involvement in illegal betting. The Yorba Linda resident has also been ordered to pay $1.45 million to the national government, after already forfeiting $1 million.
Supervisor
Besides illegal internet sports betting, Hancock has also been found guilty of money laundering. "The last time I gambled was almost one year ago. So far, I haven't felt the need to gamble," Hancock stated in court. The 68-year-old man confessed he was paid to
supervise about nine other bookies
in the betting ring.
Illegal business
Teddy Mitchell
from Oklahoma City was one Hancock's partners. One month ago, Mitchell was found guilty for his involvement in the online betting ring. However, the Oklahoma City resident emphasized he wasn't aware of the illegal character of the gambling business. Hancock however acknowledged that the online betting activities were illicit.