21-month prison sentence for organizer of cockfighting
09-11-2012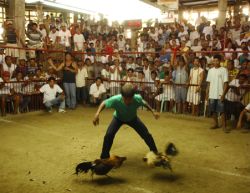 A cockfighting gambling operator from South Carolina faces 21 months in jail. James Collins pleaded guilty to organizing cockfights in South Carolina. In October, three bookmakers from Midlands (South Carolina) were found guilty of operating a Columbia-based betting network. Collins claimed he wasn't a professional bookmaker like the gambling trio from Midlands.
Blood sport
The 54-year-old cockfighting operator stated in court that their main goal had been to revive the sport in the region. Collins also wanted to legalize cockfighting in South Carolina. The blood sport is legal in countries like Perú, Nicaragua, Thailand, and Puerto Rico. Cockfighting is all about two roosters who fight each other in an arena called a cockpit, with the loser often being killed.
Illegal cockfighting event
Three years ago, about 200 bettors and cockfighters participated in a cockfight event in Swansea, South Carolina. An undercover agent taped the cockfights, with Collins as one of the persons who attended the illegal event. He was sentenced to 21 months in prison as the tapes clearly demonstrated that Collins had organized the cockfighting event. In August, we reported about a
Georgia resident who ran cockfights at his farm
.