£2 bet on horse races results in £1.3 million jackpot
27-05-2014
A man from Mansfield Woodhouse, Nottinghamshire has won a chunk of the £10,740,797 Scoop6 prize. Craig Brazier wagered only £2 on six horse races, having planned to buy maggots with that money. The 39-year-old bagged
£1,342,599
thanks to the £2 stake.
Extremely rewarding wager
He actually wanted to bet more than only £2 but he had already used most of the money to prepare a fishing weekend. "Instead of spending more money on my fishing trip I visited a
betting shop
where I played the Scoop6", the bin cleaner from Mansfield Woodhouse noted.
Nerve-racking horse race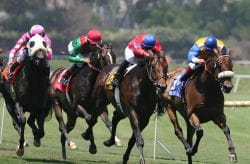 Brazier became excited after the third winner, and he woke up his spouse when he got four out of four. She wasn't impressed and told him lady luck was never on his side. The last race was a
real thriller
, resulting in a nerve-racking experience.
Job resignation
Despite his £1,342,599 fortune, the father-of-two isn't planning to resign. Brazier likes his job as a bin cleaner, while he also loves to
bet on sporting events
. The 39-year-old plans to invest some of the money in a racehorse. The other winning bettors have asked that their names be kept confidential.