The ten most popular casino games: Poker
25-07-2015
For most people it won't come as a surprise that poker is still the most played game at gambling venues. But
what makes the game of skill so special
? There are several factors that motivate the popularity of poker.
Media coverage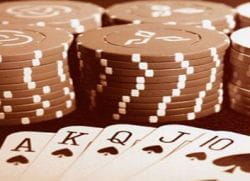 First of all, poker benefits from the fact that more and more people consider it to be a sport. That acceptance gained steam due to the increasing media coverage of poker events. Especially the World Series of Poker tournaments are very popular among those interested in the card game.
ESPN
was the trend setter, and lots of television stations followed suit.
Online poker boost
Poker is undeniable one of the most famous table games, which is another reason behind its popularity. Online poker rooms have also boosted the game's fame. Together with the growth of the internet, an increasing number of gambling enthusiasts started playing poker on the world wide web. Needless to say that online poker offers multiple benefits, including
convenience, no smoking ban, online casino bonuses, no distractions
, etc.
Most played poker games
Ever wondered which are the most popular poker games? These are without a doubt the most played variants: