Sophisticated poker scammer sentenced to prison
27-09-2013
Meet Stefano Ampollini, a poker scammer swollen with pride of his work. The 56-year-old cheater generated large amounts of money thanks to his refined techniques at the poker tables. Ampollini now faces spending 24 months in jail.
Refined scam techniques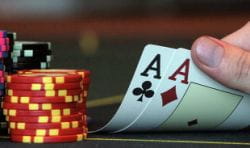 The clever poker cheater used infrared contact lenses to read cards that were marked with invisible ink. On one occasion, Ampollini
embezzled £60,000
at the poker tables inside the Casino Barriere Les Princes. According to court documents, the professional cheater got help from casino staff.
Suspicious behavior
Ampollini's partner in crime took a seat at the other side of the poker table and signaled him about what cards to play. Casino security smelt a rat as the Italian seemed to
triumph quite easily
. Ampollini's behavior became even more suspicious after he stopped playing his hand although he had favorable cards. For that reason, casino security assumed he was able to read the dealer's hand.
£19,000 thanks to poker scam
Police investigation unveiled the
casino scam
. Both Italians were provided with cards, which they marked with the invisible ink. Croupiers used those cards, enabling the Italian scammer to read them thanks to the infrared contact lenses. Ampollini generated £19,000 during the first fraud, and eight weeks later he was detained when he visited the Cannes-based gambling parlor again.