Poker winner handcuffed at Niagara Falls casino
13-02-2015
Ontario Provincial Police have booked a man who had finished third in the Fallsview Poker Classic. Harnam Singh Matharu bagged a $88,189 prize at the Niagara Falls-based gambling venue, but is to appear in court in connection with a robbery.

Poker player assaulted and robbed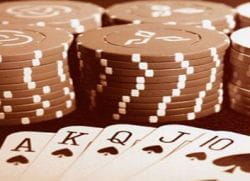 The 21-year-old poker player was enjoying dinner when two police officers entered the restaurant. Matharu didn't resist arrest, and he reacted rather calmly, according to witnesses. Police believe that Matharu was involved in last year's assault, which occurred outside a Châteauguay motel. The victim, Uri Miro, was one of the players who participated in a poker tournament that was held in Kahnawake. The
robbery
involved approximately $5,000 in cash.
Third best participant
The 21-year-old suspect reached the final table at the
Fallsview Poker Classic
. Jason Sagle became the winner, and he took home
$193,906 in cash
. Daniel Wagner secured a second place worth $135,977. At this stage it's unclear if Matharu is entitled to the prize money he won in the poker tournament.