Poker croupiers sentenced for cheating
17-09-2015
Chua Lai Huat enjoyed some nice winnings whilst playing poker at the Resorts World Sentosa (RWS) casino. An investigation showed that the 65-year-old Singaporean man
cooperated with two dealers
, who now face prison sentences. Huat will be sentenced later this month, according to court records.
Fraud conspiracy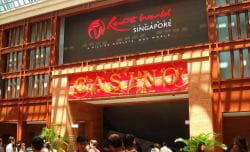 Zhang Zhijiu is one of the
croupiers involved in the fraud
. The 40-year-old Chinese dealer is heading to jail for eight months. Choo Hui Yong is a Malaysian croupier, who also colluded with Huat. Yong faces a four-month prison sentence.  A district court heard that both croupiers received 20% of the poker winnings at the end of every day.
Poker cheaters caught on camera
Zhijiu and Yong helped Huat to win at the
three-card poker
tables. The two dealers flashed the value of the deck's last card, allowing the Singaporean gambler to collect considerable winnings. Surveillance cameras inside the poker rooms of the casino caught the individuals cheating, which occurred in June and July this year.