Illegal poker parlor busted in Weston Florida
07-09-2015
Nothing is what it seems, which was also the case in Weston Florida. Cigar parlor 'Smoke on the Water' turned out to be an illegal poker den. Police have booked two men in connection with the black-market gambling activities.
Poker house raided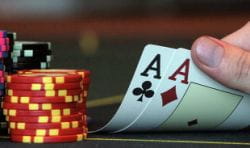 Authorities launched an investigation after locals had complained about the
underground gambling operation
. Police monitored the premises for a couple of days, followed by a raid. Authorities believe that 60-year-old Michael Kieran McGuinness and 38-year-old Daniel Frederick Husley were the operators of the business.
Both organizer and dealer
Police officers seized a poker table, in addition to other gambling items. The investigation showed that gambling enthusiasts could participate in a
Texas Holdem
event. McGuinness not only organized the illegal poker activities, he also acted as a dealer. Husley on the other hand, operated the bar.
Charity poker
McGuinness claims that the poker games were
not for a commercial purpose
, but to raise money for good causes. For that reason, the 60-year-old suspect plans to file a lawsuit against the police. Internet poker remains illegal in Florida, but there are plenty of foreign-based online casinos that offer lots of poker excitement.