Celebrities with a gambling problem: Tobey Maguire
12-04-2014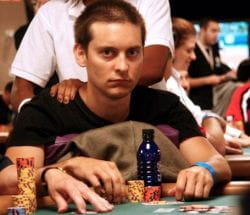 Tobey Maguire, who became famous for his role in the Spider-Man hit movies, faced a lawsuit for his involvement in an illegal gambling ring in 2011. The movie star allegedly was one of multiple Hollywood actors who were involved in unlicensed
high-stakes poker tournaments
. Tobey Maguire developed a gambling problem, according to those close to him.
$40 million in cash
Let's start with the lawsuit. The
clandestine poker games
happened at several exclusive hotels in Los Angeles. Maguire allegedly cashed nearly $40 million thanks to those high-stakes poker events. However, unauthorized poker tournaments are strictly prohibited in the state of California. That means, that winnings from such poker games are illegal, which explains Maguire's legal problems.
Talented poker addict
After the case was settled, which cost Maguire $80,000, rumors emerged that the actor was a gambling addict. Those stories didn't come as a surprise as Maguire has never tried to hide his gambling. It all started after poker pro Daniel Negreanu learned him to play poker. The Spider-Man star discovered his poker talent, and he even won the World Series of Poker. Maguire reportedly has raked in
$10 million
thanks to his poker skills.