Celebrities with a gambling problem: Michael Phelps
03-05-2014
Olympic swimming champion Michael Phelps has developed a serious gambling problem, according to his friends. Phelps has a strong passion for poker, but sources close to the swimmer claim he spends
millions of dollars
at gambling tables.
Poker dream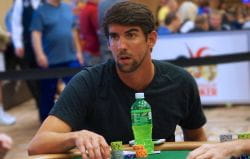 The US swimmer is an experienced poker player, but
things have spiraled out of control
. "Michael is obsessed by gambling. His competitive attitude has contributed to his swimming success, but at the poker table it can result in huge losses", a source noted. It's not a public secret that Phelps dreams about a poker career.
High-stakes poker games
Friends claim that he has gambled away hundreds of thousands of dollars at poker tables. In 2012, Phelps ended his swimming career, which sparked rumors about a poker career. He discovered his passion for
poker online
, and first he played $1 and $2 games. Phelps soon started playing high-stakes poker games, which has become a weekly habit.
Passion for poker
"I'm a
big poker fan
, and I find it really exciting to play poker. It gives me the opportunity to free my mind. I like to play poker because it's relaxing and entertaining", Phelps once said. He claims to have met several good friends at poker events. Phelps shares a house with Jeff Gross, who plays poker professionally.