Celebrities with a gambling problem: Janet Heffernan
08-11-2014
'Gambling N' Diction' is the King of Queens episode that is themed around poker. Doug's mother turns out to be a poker talent. For that reason, Doug thinks his mother could
make some serious money
at a high stakes game.
Sweet old lady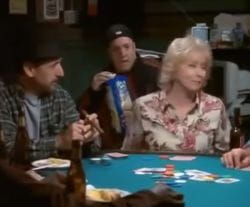 Janet Heffernan developed her poker skills while playing
Texas Hold'em Poker
back home. Doug is convinced that the other high rollers will never suspect the 'sweet old lady from Florida' to be good at poker. Janet first thinks its dishonest but decides to give it a try as Doug claims it's all about them spending time together rather than winning money.
Evil plan
They decide to gather the money for the $1,000 buy-in tournament by playing
underground poker games
. Janet proves to be a real winner, and within no time she has earned enough money to join the high-stakes poker game. The mischievous scheme works out fine as the other poker players don't suspect anything. She finds out that Doug's plan is all about winning the money instead of spending time with his mother. However, she wins the tournament, leaving her with $3,400 in winnings.