Celebrities with a gambling problem: Ben Affleck
25-01-2014
Filthy rich people, such as successful Hollywood actors, can afford the good life, including high-stakes gambling. Ben Affleck is one of those lucky people, and he definitely likes a game of poker. It's rumored that there's even a poker game named after Affleck, 'Ben's Game'.
Not very talented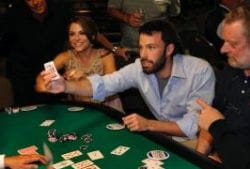 "He isn't a very talented poker player," an unidentified source revealed. Affleck discovered his love for gambling when he started playing poker with NBC Universal vice chairman Ron Meyer. The duo enjoyed
high-stakes poker games
. In 2001, the American actor underwent treatment for his gambling problem.
Ben Affleck broke?
After losing $400,000 on one night of poker, the famous actor decided to abstain from gambling for months. Most poker players didn't understand why Affleck refused to settle the debt with Meyer. "People started wondering if he was
running out of cash
as several of his movies weren't very successful, and due to a lack of big movies in the pipeline," the source added.
$60,000 per hand
His poker game improved considerably and he managed to win some serious money. Affleck also likes to play blackjack, and on one occasion he wagered $60,000 per hand. However, the Hollywood high-roller left the Vegas-based establishment with a whopping $800,000 in his pockets. The
blackjack
dealers received a $150,000 tip.