Casino scammer sentenced to probation program
22-01-2014
A Fishers (Indiana) resident is facing accelerated rehabilitation, after he stole tip money that belonged to poker dealers. Jay Newnum seized his chance at the poker tables inside the Foxwoods Resort Casino. The 41-year-old poker player used
chopsticks
to steal approximately $700 from the tip box.
Caught red-handed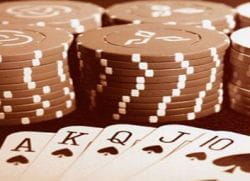 The incident took place in late 2013. Accelerated rehabilitation means that the charges will be withdrawn on condition that Newnum successfully completes the program. Connecticut State Police arrested the Fishers resident after a
Texas Hold'em poker
event at the Foxwoods Resort Casino. Police officers saw how Newnum used chopsticks to steal the cash.
No more poker
Newnum was not available for comment, but he left a message on his web log. The 41-year-old man announced his decision to quite poker until further notice. After the poker tournament at the Connecticut-based gambling parlor he promised never to comment the incident. "I will continue to
respect my decision
," Newnum stated.